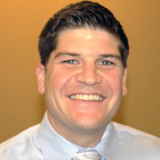 Passionate about helping people in his home town of Arlington Heights, Dr. Mike Dzuirgot is on the cutting edge of advanced treatment techniques. His focus on post graduate training includes 120 hours of seminars on Chiropractic Biophysics, Active Release and Graston Protocols.
Dr. Mike Dzuirgot is also a Titleist Performance Institute Golf Fitness Instructor and has a passion for athletics. He decided to become a chiropractic physician after injuring his back playing rugby. After not being able to get up without severe lower back pain, a few visits to the team chiropractor had him back on the field and pain free ready to play.
Dr. Mike Dzuirgot is a proud member of the Illinois Chiropractic Society, American Chiropractic Society, Palmer Athletic Trust, and Palmer Rugby Alumni Association.
Accident Treatment Centers
Auto Accident • Workplace Injury • Sports Injury