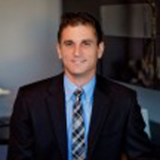 When Dr. Rob Calcaterra was younger he knew that he wanted to go into healthcare to help others. He started training as an EMT with the goal to become a paramedic. However, around that time his uncle suffered a low back ruptured disc and got incredible results from his Chiropractor. When Dr. Rob saw the change after only a few visits he began doing some research and decided to become a Doctor of Chiropractic.
Originally from St. Louis, his undergraduate work was completed at Southeast Missouri State with a Bachelors Degree in Biology. After graduating from Logan College of Chiropractic in 2005, he moved to Springfield in July of 2009.
Dr. Rob Calcaterra plays a lot of golf, so maintaining range of motion is very important for performance. Being adjusted regularly keeps his body functioning properly. He learned through sports how the goal of health care should be on prevention, and after resolving many orthopedic and muscular conditions he helps his patients with wellness and prevention.
Accident Treatment Centers
Auto Accident • Workplace Injury • Sports Injury