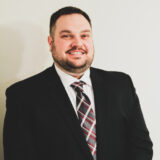 Joliet chiropractor Dr. Josh Eldrenkamp is the clinic director and a treating physician at the IPM Joliet office.
Dr. Josh received his Bachelor's of Science degree in Pre-Medicine and Biology from Augustana College. He obtained his Doctorate of Chiropractic from the National University of Health Sciences from Lombard, Illinois in 2012.
Dr. Josh was a college football and rugby player. In his free time, Dr. Josh enjoys hanging out with his friends and family, going to concerts, and playing softball.
He has worked as one of the sports team physicians for the Lincoln-Way Patriots semi-professional football team and the Manhattan Patriots youth football team in past seasons. Dr. Josh is also currently on the coaching staff of the South Suburban Cobras rugby team.
Accident Treatment Centers
Auto Accident • Workplace Injury • Sports Injury