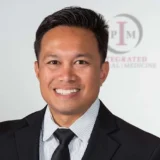 Joshua Duplessis DC, ATC, CSCS
Dr. Joshua Duplessis received his Bachelor of Science degree in Athletic Training from Northern Illinois University in 2009 then worked as an athletic trainer for the Marine Corps and Amazon.
He earned his Doctorate of Chiropractic degree in 2021 from National University of Health Sciences.
Dr. Josh has taken courses in dry needling, Graston Technique (IASTM), and Selective Functional Movement Assessment (SFMA). Also, he has certifications as a Certified Strength and Conditioning Specialist (CSCS), and Athletic Trainer (ATC). He also has completed course work with the Titleist Performance Institute (TPI) to help golfers Move Well, Often, Pain Free and Strong.
Dr. Josh's specialities include Sports Medicine Orthopedic Care and he enjoys spending time with family, summer BBQ, spending time in the water, CrossFit, weight lifting, and being a wrestling referee for the Illinois High School Association.
Accident Treatment Centers
Auto Accident • Workplace Injury • Sports Injury