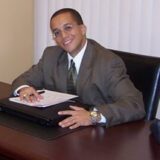 Ayo Gordon, D.C. received his Bachelor of Science degree in Biology from Alabama A&M University and a Masters of Science degree in Rehabilitation Counseling from Southern Illinois University.
Dr. Gordon has a deep understanding of both science and the health care system and earned his Doctor of Chiropractic degree from Logan Chiropractic College.
He has participated in medical missionary work in Africa, and has been teaching at Northeastern University for their Masters of Science degree program.
Dr. Gordon's wife, Melanie is a physician in the field of Internal Medicine at both Rush & Stroger hospitals in Chicago.
Accident Treatment Centers
Auto Accident • Workplace Injury • Sports Injury