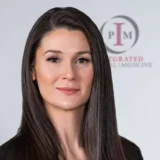 Dr. Christine Oakley grew up in the south suburbs of Chicago. She received her Bachelor of Science degree in Law Enforcement and Justice Administration from Western Illinois University in 2007 while actively performing as a starting Division I softball pitcher.
Dr. Oakley was enrolled in the US Army ROTC program and upon graduation commissioned as a 2nd Lieutenant, Aviation officer. She served eight years as a UH-60 A/L/M Black Hawk helicopter pilot, with two deployments to Afghanistan, leaving the service as a Captain in 2015.
Dr. Oakley graduated magna cum laude from National University of Health Sciences – Illinois in 2021. Her athletic career motivates her to take a comprehensive, patient-centered approach to functionally assessing and treating patients with a wide variety of musculoskeletal conditions.
Dr. Oakley is a certified Motion Palpation Institute (MPI) provider and has additional training in McKenzie Diagnosis and Therapy (MDT), Dynamic Neuromuscular Stabilization (DNS), Acupuncture, Webster perinatal technique, and various soft tissue mobilization techniques.
Accident Treatment Centers
Auto Accident • Workplace Injury • Sports Injury